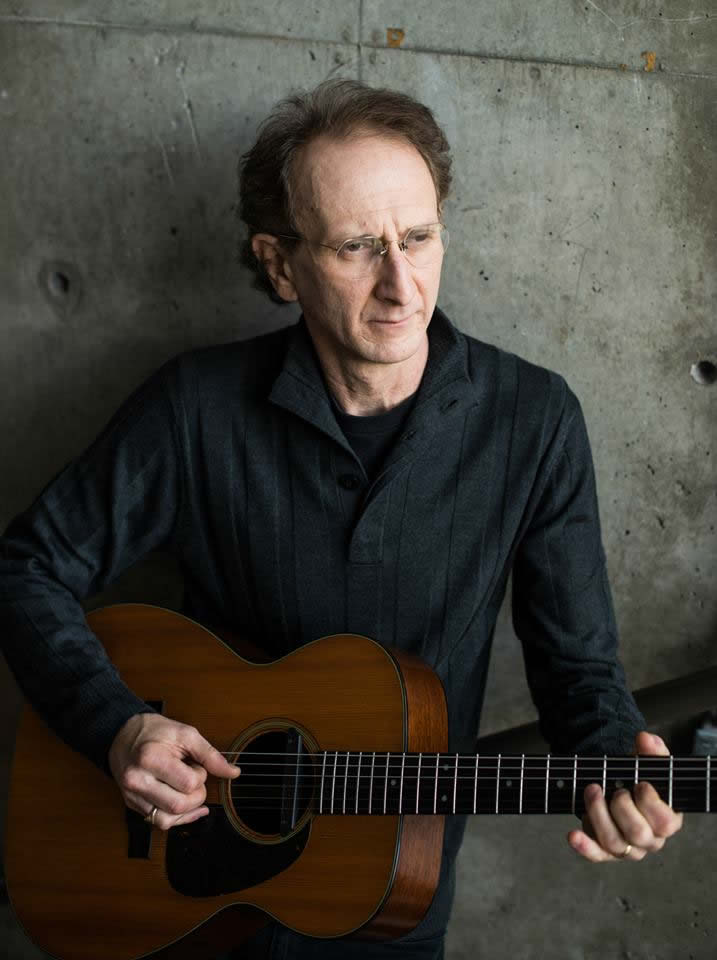 Terry Robb has long been considered one of the top acoustic blues guitarists. His dynamic finger-picking style and ability to sound like a hard, yet sophisticated, band all within a solo performance have amazed audiences worldwide and earned him international acclaim. His ensemble playing showcases sheets of sound with lightning-fast soloing of adventurist improvisation. From absorbing music from the great delta, ragtime and country artists, from swing to free jazz, Terry's foundation is the blues but his influences and music are diverse, always possessing a personal feel unto himself. Roots with a contemporary edge, looking forward.
Born in British Columbia, Terry Robb was raised in the United States and resides in Portland, Oregon. A member of the Oregon Music Hall of Fame and Cascade Blues Association Hall of Fame, Terry is an icon of the vibrant Pacific Northwest music scene. In 2011, having won the Muddy award for Best Acoustic Guitar an unprecedented 19 consecutive years, the Cascade Blues Association honored Terry with a namesake award: the "Terry Robb Acoustic Guitar Muddy Award" which is bestowed on a nominated guitarist from the northwest region annually.
Music played a significant role in Terry's childhood; his grandfather was an accomplished pianist and it was an uncle that played guitar and toured with Lawrence Welk's orchestra who gave Terry his first guitar. At an early age, Terry began to play in bands and perform solo, soaking up the music of the time, hearing and following the old masters as they were being rediscovered and reissued.
After graduating from Portland State University, where he studied music theory with the renown classical composer Thomas Svaboda, and attending workshops by the likes of Stan Kenton and Dan Ellis, Terry hooked up with Frank Zappa/ Captain Beefheart alumnus Ramblin' Rex Jakabosky and took to the roads. Through Rex he met and played with accomplished musicians such as Henry Vestine of Canned Heat, a solid foundation from which to pursue his own performing and recording career.
Robb's extensive musical catalog ranges from solo acoustic guitar, ensembles and bands, to full orchestras, and includes elements of fingerstyle, blues, rock, jazz, bluegrass, Latin, hymns, spirituals, and holiday music and collaborations with all-star musicians such as Eddy Clearwater, Maria Muldaur, Ike Willis, Curtis Salgado and Glen Moore. His critically-acclaimed album "Resting Place" released by Yellow Dog Records was recorded at famed Sam Phillips' Recording Studio in Memphis, engineered by the legendary Roland Janes and featured the great Willie Hall on drums.
One of Robb's early influences was the legendary steel-string guitarist John Fahey, from whom he learned and has been associated with the genre of American Primitivism. He and Fahey became good friends, working and performing together, and, at the young age of 24, Terry began producing several of Fahey's critically-acclaimed recordings - including Fahey's 1984 album "Let Go" which Rolling Stone named one of the top three albums of the year alongside "Purple Rain" and "Born in the USA".
A sought-after record producer, Terry has produced projects for artists such as Alice Stuart and the late cartoonist John Callahan, featuring a guest vocal by Tom Waits, to avant-guard musician Phil Kellog which featured guitarist/bassist Henry Kaiser. He has contributed to a number of Grammy and Emmy award-winning projects, including producing a song for the Robert Redford blockbuster "The Horse Whisperer", and producing a W.C. Handy-nominated album for blues-woman Sheila Wilcoxson. The 2009 album "Sista" by soul divas Linda Hornbuckle and Janice Scroggins, produced and released by Terry's Indy label, Psychedelta Records, was included in an industry list of Portland's top 20 albums of the year.
Robb has toured North America and Europe as a solo artist, performing at and headlining major festivals, and with other heavyweight musicians such as Buddy Guy and Steve Miller. When at home, he performs regularly throughout the Pacific Northwest and is a member of the tour-de-force trio Acoustic Guitar Summit.
Robb has been featured in documentary films, such as "In Search of Blind Joe Death: The Saga of John Fahey," "Portland Mojo: How Stumptown Got the Blues," and the John Callahan documentary "Touch Me Someplace I Can Feel," as well as numerous radio and television programs, including a performance on Late Night with Conan O'Brien, and has received invitations to perform with the Oregon Symphony. His work is reviewed regularly in major publications, including featured articles in magazines such as Acoustic Guitar. An insightful and knowledgeable student of music and the guitar, Terry receives frequent invitations to teach at workshops and festivals across the country.
Selected discography:
Hymn (Oregon Catholic Press, 2013)
Muddyvishnu (PsycheDelta Records, 2013)
Resting Place (Yellow Dog Records, 2005)
When I Play My Blues Guitar (Burnside Records, 2002; re-release Allegro Records, 2013)
Heart Made of Steel (Burnside Records, 2000)
Hit It and Quit It (with Curtis Salgado, Lucky Records, 1997)
Stop This World (Burnside Records, 1996)
Bethlehem Star (Oregon Catholic Press, 1993)
Jelly Behind the Sun (House Records, 1994)
Let Go (with John Fahey, Varrick Records, 1984)
Popular Songs of Christmas and New Years (with John Fahey, Varrick Records, 1983)
Selected reviews:
"What distinguishes this recording (Let Go) is Robb's superb production – Robb is an extraordinary, sympathetic accompanist to John Fahey."
Rolling Stone
"Robb's experience with varied musical genres has enhanced his rootsier efforts (Resting Place)."
Acoustic Guitar Magazine
"Robb is one of the cleanest guitarists with such melodic runs that even when he runs wild, its roots are thick as the redwoods or murky as Muddy's waters (Muddyvishnu).
Blues Revue
"Robb's album (Jelly Behind the Sun) gets better with each listening."
Guitar Player Magazine
"Robb leans toward tight rhythm sounds in his arrangements, leaving a lot of space for his ample guitar work – The product of a strong player who ignores cliches (Resting Place)."
Blues Revue
Homepage: www.TerryRobb.com