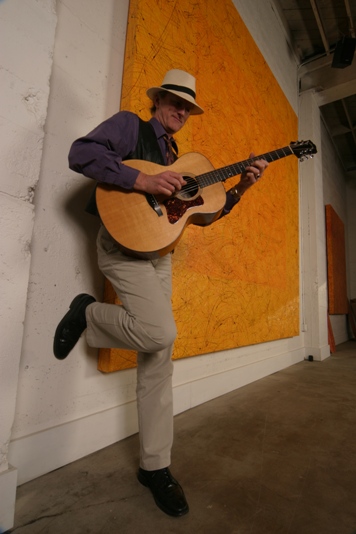 Grammy winning fingerstyle guitarist and author Mark Hanson is an experienced performer, composer, and recording artist. His recordings are heard regularly on NPR, and on syndicated radio and television programs, such as Martha Stewart Living and West Coast Live. Mark contibuted two pieces to the Henry Mancini - Pink Guitar CD that won a 2005 Grammy award for best Pop Instrumental album. Mark has also arranged and recorded two tunes - including the title track duet with Doug Smith - for 2007's follow-up to the Pink Guitar CD: Cole Porter - Delovely Guitar.
Called by A Prairie Home Companion's Pat Donohue "...perhaps the greatest teacher of fingerstyle guitar," Mark is a prolific author and publisher in the guitar education field. He and his wife Greta Pedersen formed Accent On Music, LLC, in 1985. Since then, Mark has authored over 30 books, videos and DVDs on many aspects of guitar playing, available at www.AccentOnMusic.com and distributed by Music Sales Corporation and Alfred Publishing. His articles appear in Acoustic Guitar, Guitar Player and Fingerstyle Guitar magazines. In the '80s, Mark was an editor and columnist at Frets magazine, interviewing such luminaries at James Taylor, David Crosby, Jorma Kaukonen, and Leo Kottke.
Each summer, Mark and Greta host the Accent On Music Fingerstyle Guitar Seminar in Portland, Oregon. At the culmination of the weeklong event, Mark shares the stage with his fellow instructors, who have included Tommy Emmanuel, John Renbourn, Laurence Juber, Guy Van Duser, Ed Gerhard, Donohue, John Knowles, Muriel Anderson, Doug Smith, Pat Kirtley, Alex de Grassi, Terry Robb, Chris Proctor, Al Petteway, Duck Baker, and Peppino D'Agostino. In 1989, Mark had the great pleasure to share the stage with the late Jerry Garcia.
Mark Hanson's stage persona is highlighted by blazing fingerpicking, haunting ballads, fun songs and good humor. Stories of the music "biz" are both educational and hilarious, and there may even be a bit of audience participation!
Homepage: www.AccentOnMusic.com